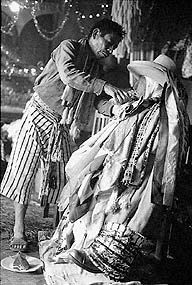 I've being waiting for you long time ago and whether you wouldn't believe it, we have already met, we are old friends. We've being together at the end of past lives, and even thus you still afraid . But don't worry about, I can't do anything by myself until the Lord indicates me. Never forget that since you got born you started to die little by little and soon our meeting it must come true. By now we have an advantage..... We have already met! I'm your guide, your friend, your guardian angel and I'm not asking you for anything in exchange

"Your Majesty, The Holy Death"
The cult of Santa Muerte attracts those who are not inclined to seek the regionally dominating Catholic church for spiritual solace, as it is part of the "legitimate" sector of society. Most followers of Santa Muerte live on the margin of the law or outside it entirely.
The phenomenon is based among people with scarce resources, excluded from the formal market economy, the judicial and educational system, primarily in the inner cities and the very rural areas.
For decades, thousands in some of Mexico's poorest neighborhoods have prayed to Santa Muerte. A large following developed among Mexicans who disillusioned with the dominanting Catholic church and, in particular, with the ability of established Catholic saints to deliver them from poverty.
Mexican authorities have linked the worship of Santa Muerte to drug traffickers, mobile vendors, taxi drivers, vendors of pirated merchandise, street people, prostitutes, pickpockets and gang members. The folks that are not very religious, but neither are they atheists. In essence, they have created their own religion that reflects their realities, identity and practices, especially since it reflects the violence and struggles for life that many of these people face.
The Catholic church used similar tactics it used in Europe to assimilate the Pagans into their belief system by incorporating regional beliefs found in Latin America. This is also true regarding Santa Muerte.
La Santisima Muerte is a "banned saint," the Roman Catholic "cover" for an ancient
Aztec goddess
named
Mictecacihuatl
,
a death goddess
and co-ruler, with her husband, of the underworld.
Mictecacihuatl
, the wife of the
Aztec death god
Mictlantecuhtli
, is the sister to the
Aztec goddess
Tonantzi
n, who has been syncretized with the
Virgin Mary as Our Lady of Guadalupe
.
That's why
Mictecacihuat
l became
"Most Holy Death, The Virgin Mary as a Skeleton."
In Latin America, the skeleton was used to remind Catholics of the need for a "good death," (Muerte Santa) fully confessed of sins. Bones are also associated with certain saints, such as San Pascual Bailón
After the Conquest, the cult of death diminished but was never eradicated.
There are reportedly stories from back in the 1800's of indigenous people who tied up a skeletal figure and threatened it with lashings if it did not perform miracles or grant their wishes.
In contrast to the Day of the Dead, overt worship of Santa Muerte remained hidden until the 19th century. When it surfaced, reaction was harsh, Catholics burned any image they found, doing whatever they could to control their believers.
The Catholic church has deemed Santa Muerte's followers devil-worshiping cultists. In Mexico, the Catholic church has linked Santa Muerte to
Satanism
, saying she is being used to mislead desperate people.
Another reason the Catholics condemns worship of Santa Muerte is that her rites are based on Catholic liturgy. They feel that at best the worship of a "
Saint or Holy Death
" is a misinterpretation of Catholic doctrine. A holy death or Muerte Santa means that the deceased has had the benefits of being spiritually prepared for death via the sacraments and confession, but the concept is not personified
Since worship of this image has been, and to a large extent still is,
clandestine
, most rituals are done in altars constructed at the homes of devotees.
Rites dedicated to Santa Muerte are similar to Pagan and Catholic rites, including processions and invocations, with the aim of gaining a favor.
Altars of effigy's containing an visualization of Santa Muerte, generally surrounded by any or all of the following:: cigarettes, flowers, fruit, incense, cannabis, alcoholic beverages, coins, and glass vigil candles with black wax.
It has been rumored that practitioners also sacrifice animals and even humans to gain favors.
"Santa Muerte, can grant favors that no other saint can, such as cause a person to fall in love with you, damage property, exact revenge on someone, even to control and manipulate".
As
Señora de la Noche
(
"Lady of the Night"
), she is often invoked by those exposed to the dangers of working at night, such as taxi drivers, mariachi players, bar owners, police, soldiers, and prostitutes. As such, she can protect against assaults, accidents, gun violence and all types of violent death,
or to cause them
.
"The thirst for blood and sacrifices from the Aztec reins, passing from generation to the next. This is as close as you will get in modern times to anything comparable."
.